Rhigos Substation Control System
Rhigos 400kV Substation Control System (SCS)
The Mitsubishi Electric SCS is type registered for use on National Grid substations for up to 30 Bays. As part of the type registration we engineered specific functionality for National Grid to enable Grouping of IEC60870-5-101 alarms at the substation level and also proved IEC60870-5-101 compliance with KEMA.
Following a successful FAT at our factory in Kobe, Japan, the Rhigos substation control system was delivered to the UK where it was engineered into cubicles for delivery to site. To provide the customer with additional re-assurance, we performed further functional testing at out test facility in Milton Keynes before delivering the solution to site in July 2015.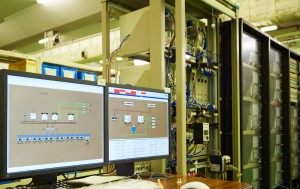 Sample Feedback from Customers on our Service Provision
The Mitsubishi Electric substation control system has been very well received by our customers and described as 'intuitive'.
The test facilities are excellent. It's good to see a business invested in engineering and the staff were knowledgeable, helpful and hard-working.
Communication beforehand was very good from Mitsubishi Electric.
I was extremely impressed with the quick turnaround to resolving issues, in some cases within an hour, this service is heads above other suppliers.